Private Detective
Eye Spy Blog 1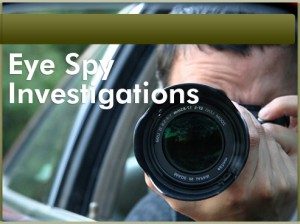 How does the profession affect your personal life?
You have job satisfaction because you are helping someone. And if you are a detective, then it is understood that you'll keep weird hours. So your family life should not be disturbed. It's when the job starts getting to you that you should be worried.
How much of a resemblance do real life detectives have to the ones in movies or books?
There is some element of truth in fiction. Maybe 40-50 percent of what you see on TV is correct. There is are lot of midnight secret meetings and we do have to keep every little detail secret. We are very much secret agents in a James -ish way. Eye Spy Detective Agency has been featured on E! Entertainment's "Holly's World" for all of season 2. We were instrumental in finding Josh Strickland's Birth Mother. Eye Spy has also been featured on "Maury Povich" as expert investigators. Call Eye Spy at 888-393-7799 or visit www.EyeSpyInvestigations.com
PRIVATE DETECTIVE
If you want to hire a Michigan private investigator or a Michigan private detective, please call our investigations office at (888) 393-7799, 24 hours/7 days. We provide private investigator services throughout the entire State of Michigan, and nationwide. We are licensed as Michigan private investigators by the State of Michigan and will solve your case as quickly as possible.
Eye Spy Private Detective Agency is a licensed, Michigan private detective investigation firm, specializing in all matters requiring professional private investigations in Michigan. We operate 24 hours a day, 7 days a week. Our highly trained and private investigators specialize in all areas of investigation, surveillance, background checks, and more for your personal or business needs.
The equipment we use to assist us in conducting our private investigations is truly state of the art. From our digital video cameras to our vehicle tracking system, you will find that our company has a great advantage over others.
Over the years, Eye Spy Private Detective Agency has built a sound reputation among our clients. We exhibit professionalism and knowledge while dealing with a vast array of cases. We employ only highly trained private investigators, many of whom have earned college degrees ranging from Criminal Justice to Finance. We provide these services with the utmost of confidentiality and in an expeditious manner.
Whether you are an individual needing our services for a domestic problem, an attorney requiring information for a client, or a large company looking to minimize losses, our private detectives are here to assist you 24 hours a day, 7 days a week.
CALL US 24 hours a day, 7 days a week: (888) 393-7799
– See more at: http://www.eyespyinvestigations.com/#sthash.BSXyXZGG.dpuf