Missing Teen Found
Eye Spy Blog 1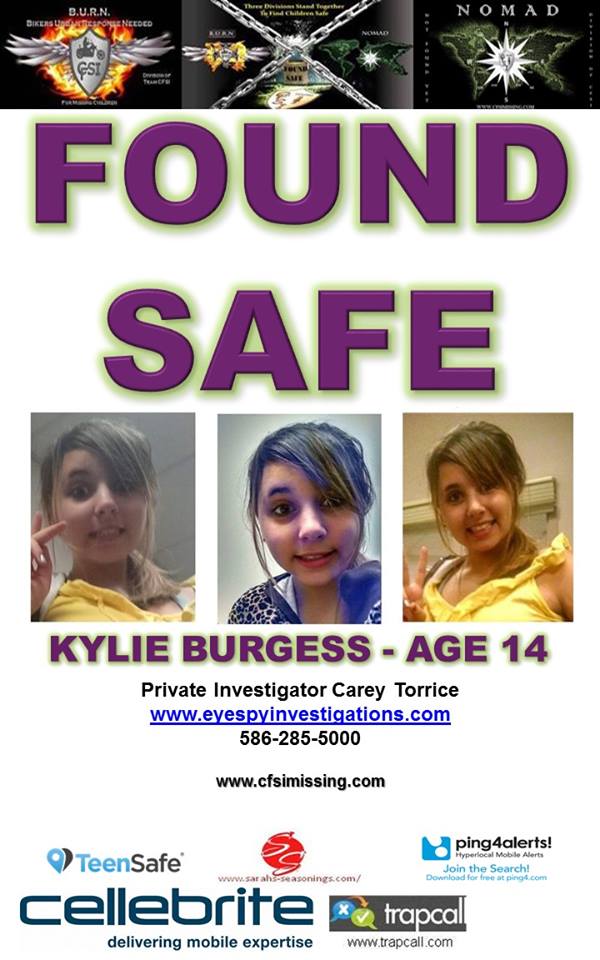 Missing Teen Found Safe 03/23/2016
JACKSON, MI – More than two weeks after her disappearance, a missing teenage Jackson girl has been found safe in Detroit, her mother said.
A detective contacted Kylie Burgess' mother, Tracy Poxson, on Wednesday afternoon to let her know 14-year-old Kylie had been located.
"I can't wait to see her beautiful face again," said Poxson, who was yet to talk to her daughter. She had started to worry she might never do so again. "It's the scariest feeling ever. You can't do anything about it."
Dearborn Heights police confirmed Michigan State Police found Kylie, but a sergeant did not have many details. A subsequent effort to contact relevant authorities at District 2 state police headquarters in Taylor was not successful.
Kylie left Vista Maria, a treatment center for girls in Dearborn Heights, before dawn March 6 and a report had been made to the Dearborn Heights Police Department.
An extensive search was underway. Her story was shared hundreds of times on Facebook and featured by a Detroit TV station. The nonprofit Center for Search and Investigations for Missing Children was involved.
Kylie had called her mother last week. She said she was happy, with a boyfriend and heading to Ohio or Florida. "I told her it wasn't going to happen, that I wanted her to come home," Poxson said.
She did not know much about how Kylie came to be found or where she had been.
Poxson said she didn't even really ask police, who told her at about 3 p.m. that Kylie was going to a hospital to be checked. "I just needed to tell my family she is safe.
"The details will all come out later."
The state police were acting on a tip, she said, and she thanked those who offered information. "I am forever grateful to all the people who helped." The outpouring of love and support has been "amazing," she said.
Where Kylie will now be placed has not been determined, according to Dearborn Heights police.
She has a troubled past. She was a victim of crime and spent time in a juvenile detention facility. Poxson earlier said she allowed her daughter to become a "ward of the state" in order to get her the treatment she needed.
Kylie left for Dearborn Heights in May and was to remain there until about June.
Her mother, who is fighting cancer, expressed some frustration with her daughter. "Kylie has always been compassionate and caring… and she just left. She gave up. She was doing so good."
Mostly, however, it seems Poxson is relieved.
"I know I ran away when I was a kid. I feel so bad for putting my parents through that because it is a terrible feeling."
She and others were planning on returning to the Detroit area this weekend to look for Kylie. "We don't have to. We can have Easter and be in peace."
Link to story:
Call the Expert Private Investigators and Detectives at Eye Spy Detective Agency today 888-393-7799 or visit us at www.EyeSpyInvestigations.com
Michigan Private Investigations – Private Detective Agency
If you want to hire a Michigan private investigator or a Michigan private detective, please call our investigations office at (888) 393-7799, 24 hours/7 days. We provide private investigator services throughout the entire State of Michigan, and nationwide. We are licensed as Michigan private investigators by the State of Michigan and will solve your case as quickly as possible.
Eye Spy Private Detective Agency is a licensed, Michigan private detective investigation firm, specializing in all matters requiring professional private investigations in Michigan. We operate 24 hours a day, 7 days a week. Our highly trained and private investigators specialize in all areas of investigation, surveillance, background checks, and more for your personal or business needs.
The equipment we use to assist us in conducting our private investigations is truly state of the art. From our digital video cameras to our vehicle tracking system, you will find that our company has a great advantage over others.
Over the years, Eye Spy Private Detective Agency has built a sound reputation among our clients. We exhibit professionalism and knowledge while dealing with a vast array of cases. We employ only highly trained private investigators, many of whom have earned college degrees ranging from Criminal Justice to Finance. We provide these services with the utmost of confidentiality and in an expeditious manner.
Whether you are an individual needing our services for a domestic problem, an attorney requiring information for a client, or a large company looking to minimize losses, our private detectives are here to assist you 24 hours a day, 7 days a week.
CALL US 24 hours a day, 7 days a week: (888) 393-7799
– See more at: http://www.eyespyinvestigations.com/#sthash.UNVZTW3D.dpuf