Saint Or No Saint Patty's Day?
Eye Spy Blog 1
Saint Or No Saint Patty's Day?
Saint Or No Saint?
Saint or not saint on St. Patrick's Day? The biggest drinking day of the year is coming up and if you are having some trust issues in your relationship then man should you be worried!!! St. Patty's day is a day everyone likes to get wild, let's be honest here.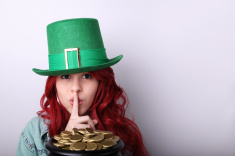 Not everyone make's the right choices or even can with the amount of alcohol they drink on St. Patty's day. A lot of things can go wrong because of this. Maybe they'll cheat, or maybe they're on probation, or maybe they're supposed to have custody of your child/children that day and instead they go out and drink.
Eye Spy can get you the proof you need to find out who this person really is when they drink. Will they make the right choice? Or will they slip up? You may think it will never happen to you but it could.
Is your ex irresponsible and known for drinking and driving? Do they have your kid that week and you want to be safe rather than sorry?
We do all sorts of surveillance. We gather video and photo proof if your ex or current spouse is being responsible or not. We can GPS track their vehicles and see where it is they're going at all times.
We have plenty of investigators that are trained in this line of work. We use the best technology and software there is. We do not take a case if we have any doubts we cant do it and get you the best results possible. We have been in business for 25 years and give you our all.
Get the answers you deserve. Find out if you are being cheated on, or if your child is in safe hands. If you would like to speak with a private investigator please call 586-285-5000
If you would like to hire a private investigator continue to this link here https://www.hellosign.com/s/9d21d518