Crazy Caught Cheating
Eye Spy Blog 1
Crazy Caught Cheating
How can you tell if your spouse is cheating?
Is your spouse crazy caught cheating? Unfaithful spouses/Significant others — especially men — tend to give a common response when pressed about suspicious behavior (say, new computer passwords or unexplained late nights outs).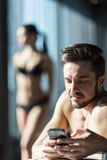 The more the woman starts to press him, there's one thing that I commonly hear that she hears from him… he's going to tell her, 'you're crazy' and every time she confronts him again he's going to remind her, 'you're crazy,'"  It's important for her to realize she's not crazy — that there is a significant reason why she's having these doubts.
Other signs that your partner may be cheating,? Less sex and a tendency to be overly protective or antsy when receiving calls or texts.
Gut Feeling
Trust your gut instincts. They will never steer you wrong. You cannot put a price on peace of mind.
If you want to hire a Michigan private investigator or a Michigan private detective, please call our investigations office at (888) 393-7799, 24 hours/7 days. We provide private investigator services throughout the entire State of Michigan, and nationwide. We are licensed as Michigan private investigators by the State of Michigan and will solve your case as quickly as possible.
Eye Spy Private Detective Agency is a licensed, Michigan private detective investigation firm, specializing in all matters requiring professional private investigations in Michigan. We operate 24 hours a day, 7 days a week. Our highly trained and private investigators specialize in all areas of investigation, surveillance, background checks, and more for your personal or business needs.
The equipment we use to assist us in conducting our private investigations is truly state of the art. From our digital video cameras to our vehicle tracking system, you will find that our company has a great advantage over others.
Over the years, Eye Spy Private Detective Agency has built a sound reputation among our clients. We exhibit professionalism and knowledge while dealing with a vast array of cases. We employ only highly trained private investigators, many of whom have earned college degrees ranging from Criminal Justice to Finance. We provide these services with the utmost of confidentiality and in an expeditious manner.
Whether you are an individual needing our services for a domestic problem, an attorney requiring information for a client, or a large company looking to minimize losses, our private detectives are here to assist you 24 hours a day, 7 days a week.
CALL US 24 hours a day, 7 days a week: (888) 393-7799
– See more at: http://www.eyespyinvestigations.com/#sthash.QzT39Sqn.dpuf
If you would like to hire a private investigator continue here https://www.hellosign.com/s/9d21d518