Spring Fling
Eye Spy Blog 1
Spring Fling
Spring Flings
Spring is here! It's time for something new and exciting. With online dating, it's easier than ever to line up some spring flings this month.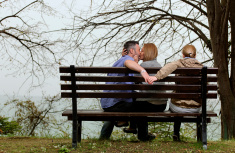 Today we are going to approach this from another angle. We will give you a behind the scenes look at how cheaters get away with it.
The rule is, be smart and you won't get caught. Here are some tips on how to clean up your dating profile and attract fellow cheaters.
Use a Cheating Site
If you're looking for an affair partner on anything other than a cheating site, you need to stop. With the popularity of online dating, using a regular dating site will get you caught. Try a dating site like Sweet Discreet. With that said, even on cheating sites you need to be careful with what information and photos you share with the public.
Keep Your Face Shots Under Lock and Key
Try not to show your full face in any public photos. Many cheating websites have an option to keep specific photos or albums private. You can share them with the lucky few of your choosing. That's where you should put photos of your face or ones that give away your identity like photos of your tattoos.
Be Brief and Engaging
No one wants to read your life story. Keep your dating profile short and sweet. Be brief and be engaging. When you reach out to potential affair partners, ask them about themselves and their interests.
The Best Partner Is The Most Discreet Partner
In a dream world, all our first picks also know how to keep their mouths shut but that is not always true. Chances are if they're talking about past cheaters they've been with, they'll talk about you too. That's why I always say the best partner is the most discreet partner.
These ideas will help you understand how a cheater will get away with it.
Michigan Private Investigations – Private Detective Agency
If you want to hire a Michigan private investigator or a Michigan private detective, please call our investigations office at (888) 393-7799, 24 hours/7 days. We provide private investigator services throughout the entire State of Michigan, and nationwide. We are licensed as Michigan private investigators by the State of Michigan and will solve your case as quickly as possible.
Eye Spy Private Detective Agency is a licensed, Michigan private detective investigation firm, specializing in all matters requiring professional private investigations in Michigan. We operate 24 hours a day, 7 days a week. Our highly trained and private investigators specialize in all areas of investigation, surveillance, background checks, and more for your personal or business needs.
The equipment we use to assist us in conducting our private investigations is truly state of the art. From our digital video cameras to our vehicle tracking system, you will find that our company has a great advantage over others.
Over the years, Eye Spy Private Detective Agency has built a sound reputation among our clients. We exhibit professionalism and knowledge while dealing with a vast array of cases. We employ only highly trained private investigators, many of whom have earned college degrees ranging from Criminal Justice to Finance. We provide these services with the utmost of confidentiality and in an expeditious manner.
Whether you are an individual needing our services for a domestic problem, an attorney requiring information for a client, or a large company looking to minimize losses, our private detectives are here to assist you 24 hours a day, 7 days a week.
CALL US 24 hours a day, 7 days a week: (888) 393-7799
– See more at: http://www.eyespyinvestigations.com/#sthash.CgA9sT8Q.dpuf
If you would like to hire us today please continue to this link https://www.hellosign.com/s/9d21d518