Craziest Cheating Revenge Stories
Eye Spy Blog 1
Hell have no fury like the love-scorned kind. Here are some of the Craziest Cheating Revenge Stories in history. They make us depressed, elated, triumphant, and inspired. In short? We just can't get enough of the juicy details of a cheating revenge story.
Why can't we look away: Cheating Revenge Stories
Studies show that 84% of Americans find cheating morally unacceptable. Men are more bothered by sexual romps, while women can't stomach an emotional affair. Whether we admit it or not, we're fascinated by revenge, danger and evil. We as humans are compelled to look whenever we pass a grisly accident on the highway, and there's no denying our thirst for gory entertainments like horror movies and police procedurals. What makes these spectacles so irresistible?
It's not crystal clear why cheating bothers people so greatly. However, the truth is, everyone loves a Good Train Wreck. Is there something nourishing in darkness?  To repress revenge, death and evil, is to lose the feeling of life. A closeness to these things discloses our most fertile energies.
Cheating Revenge: Reacting to Betrayal
Everyone reacts to betrayal differently. Some turn to wine and tissues, others unleash a fire of fury that lead to some juicy revenge stories. it's not terribly surprising that people react to adultery in, ahem, extreme ways. (Disclaimer: Eye Spy does not condone any of this behavior.) Here are the top Craziest Cheating Revenge Stories:
House On Fire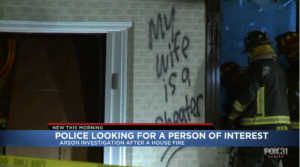 A man wrote "My wife is a cheater" not once, but several times on a home in Arvada, Colorado, then set it on fire. The neighbors explained that a nice family lives at the home. As a result,  the arsonist is male, and currently in custody. Consequently,  Their poor children are going to need 20 years of therapy!
A Horse Of A Different Color
In 2013, a man discovered that his wife was active on a dating site named KissingGates. Most noteworthy, she had referred to him as "crazy" and a "complete idiot" in her interactions on the site. Although some see "crazy" as an insult, others perceive it as a challenge.  
To demonstrate just how "crazy" he indeed was, he proceeded to dump a load of horse manure on his wife's car. The car was dirty, but not destroyed.
The Very Angry Yard Sale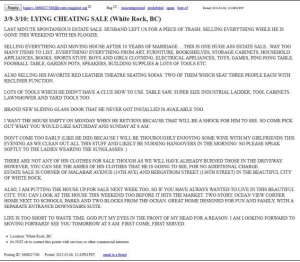 In the spring of 2013, a Canadian woman posted a Craigslist advertisement to drive traffic to her, yes, revenge yard sale. According to the ad, the husband left for the weekend with his "floozie" (despite a 10-year marriage and children)—so the lady was feeling a bit scorned, shall we say.
The ad invites locals to peruse "lots of tools which he didn't have a clue how to use" along with other personal belongings of his. (And the ashes of his burned clothes at no extra charge!) Prospective buyers were warned not to "come too early (like he did)." Ouch. To her credit, the sale did include items (like outgrown kids' clothes) that didn't pertain to the philandering man. A little pragmatism in the time of tragedy never hurt anybody.
Naked Attack
In 2014, a 29-year-old woman named Ting Su discovered that her husband was messing around with her twin sister. It's not clear how she came to know this, but Ting Su was determined to seek revenge. Ting used a tracking app on her phone and discovered that the two were in a public parking lot. With the bitter taste of vengeance on her tongue, Ting Su headed to the parking lot. Upon arriving, she realized that the pair were not only having a tryst, but having sex, right then and there, in their family vehicle.
Shocked upon seeing Ting Su lurking outside the steamy window of their love-making, the cheating pair leapt from the car. Naked. Ting Su saw her opportunity; she jumped in the car, locked the doors, and drove away. The naked couple stood humiliated in the parking lot while onlookers laughed and took pictures.
Death To Audi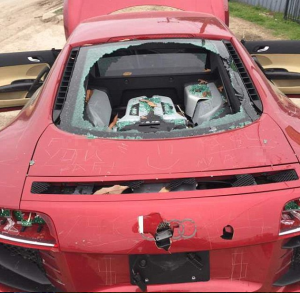 This story  brings a certain Carrie Underwood song to mind.  A man cheated and his lady friend wanted revenge. This scorned woman took her revenge out on her man's prized Audi R8 V8. As a result, she smashed the windows, most of the exterior, the speedometer, and dashboard, but she was just warming up. Finally, she ripped apart the leather seats, keyed the exterior and wrote "fuck you" with a smiley face, and carved dollar signs on the back above the bumper. In addition to, the stereo was also missing, as were some electrical bits. The car, which was completely destroyed, is estimated to be worth over $100K.
Michigan Private Investigation: Eye Spy Detective Agency
If you suspect that your lover is cheating, call Eye Spy today at 888-393-7799, or visit us at www.EyeSpyInvestigations.com