Halloween Trick Or Treat. Will They Cheat While Playing Adult Trick Or Treat?
Eye Spy Blog 1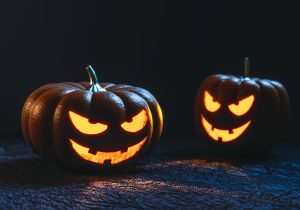 It's no secret, almost everyone loves Halloween. This fascination with the dark side has made Halloween the second-largest commercial holiday behind Christmas. So, why do people love Halloween so much?
It's a satisfaction of living without accountability, casting off humanity and turning into machines without morals. Zombies overcome death and vampires rule time. People really like being scared.
As a child, Halloween was the one day that you could stay up late and eat an enormous amount of candy. Hours spent trick or treating for delicious candy. Adults checking candy for poison, needles, and razor blades. Their unfounded fears were based on legend, but it somehow added to the fun. I remember thinking at each house – Is this the guy that poisons little kids?
Everyday people come face to face with their limitations and mortality in unpleasant ways. As a result, There is a kind of ecstasy in transforming into another creature or person for the night. It also gives people permission to do openly what is usually done in secret, wear masks.  Constantly people pretend to be nicer or happier than they really are.  Because in society they are expected to put a good face on things. On Halloween, it's okay to come out as a mask-wearer and feel relief that they no longer have to hide.
Halloween Cheating:
Did you know that 66% of women said that they were more likely to cheat on Halloween? Consequently, one in three women consider this a free night. Rather than searching online, they would be most likely to stray with any man who was in the right place at the right time.
Halloween is the day that allows everyone to express themselves creatively. Furthermore, those who are sexually charged take it to another level and it becomes an evening of intrigue, mystique and fantasy, generating a more adult version of trick or treat.
Women wearing these costumes are more likely to cheat:
Sexy nurse
Catwoman
Zombies, mummies and monsters
Voluptuous vampire
Air hostess
Playboy Bunny
Policewoman
Fun Facts:
179 million American will partake in spooky festivities, up from 171 million last year. As a result, spending is slated to reach a record high. This year, consumers are expected to spend $9.1 billion, up from $8.4 billion in 2016. Halloween is more seductive than a vampire's kiss for consumers.

Michigan's most popular Halloween treat is candy corn.

The top costume for children is reported to be an action hero or superhero, while the top pick for adults is a witch.

Pets will not be left behind, with 10 percent of consumers dressing their pet as a pumpkin.
Call the Michigan Private Investigators at Eye Spy Detective Agency today at (888) 393-7799. For more information visit our website at www.EyeSpyInvestigations.com