Do You Have a Stalker?
Eye Spy Blog 2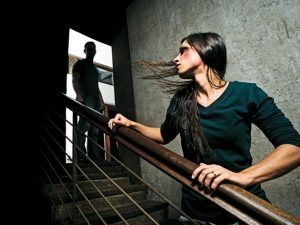 Fictional stalkers make for great entertainment on television and movies. However, these depictions on-screen can be far from the truth. You can be left to feel like a prisoner in your own skin depending on the severity of your case.  A stalker can cause serious psychological damage to their targets. People who are stalked can get paranoid and fear for their lives which can in turn, develop in to post-traumatic stress disorder (PTSD).
Stalkers may be tricky to identify in the beginning. They're often kind and charming people who easily weasel their way in to your life.
Do You Have a Stalker? Stalkers?
Obsession is typically the main objective that drives a person to become a stalker. Stalkers are often socially alone and awkward or lack significant intimate relationships in their life. If a stalker finds someone who initially welcomes this attention,  they may feel an almost uncontrollable urge to continue with these advances.
A stalker will do whatever they can to ensure that their victim stays within their grasp. These people are generally very keen to the fact this kind of behavior is socially unacceptable so in most cases will proceed with caution. The moment they get to know their targets, they will begin harassing them.  Here are a few common methods:
Calling or sending emails immediately after meeting
Become clingy or forceful when wanting to meet
Become seriously upset and aggravated if they don't get their way
Follow them around from a distance
Send threats when ignored
Violence is not uncommon
How to Handle a Stalker
You should not attempt to face a stalker alone but you can try to see things from their perspective to stay aware of your surroundings. By recognizing their logic and motives you're able to spot warning signs earlier. If you take matters into your own hands you risk the chance of getting hurt or even worse, doing exactly what they want.
In the interests of your own safety, it is best to consider hiring a private investigator so the stalker can be identified and brought to justice.
At Eye Spy Investigations, we offer 100% LEGAL, CONFIDENTIAL services.
If you are interested in our services or have a few questions, please do not hesitate to call or go online and talk to one of our private investigators on our 24/7 live chat. Call the Michigan Private Investigators at Eye Spy Detective Agency today at (586) 285 – 5000. For more information visit our website at www.EyeSpyInvestigations.com
They can run, but they can't hide from EYE SPY.