Faulty Background Checks
Eye Spy Blog 2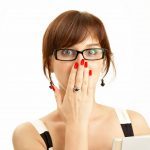 Did you know that faulty background checks are costing people their jobs? These errors can be difficult to fix, costing applicants job opportunities and disrupting livelihoods.
Faulty Background Checks: Get The Facts
The federal government has historically paid little attention to the companies that collect and sell the data used by employers in hiring decisions. This also includes data about an applicant's criminal history.
9 in 10 employers now use criminal background checks for some applicants, and the data is not always reliable.
Is there any misinformation on your personal background and criminal check? To be safe, each person should run a background and criminal check on themselves every year. These mistakes can cost you a lot more than your job.
Keeping You And Your Family Safe
There are many flaws in pre-employment background checks.This is especially true if the employer is conducting a one of those faulty background checks online. These cheap and unreliable background checks can lead to horrible results.
Did you know that most moving companies do not conduct a pre employment check on their employees? That's right! A  repeat convicted felon could be inside your home.  Learning about your family and taking inventory of your valuables. However, many felons give false information to their new employer. The company conducting the report doesn't usually search too deeply. Therefore, many felons are handling money and violating their probation as a result.
Nursing home caregivers are also at the top of the list. The turn over rate is very high in this field. Which means the employer cannot afford to keep running criminal background checks on each employee.
What will a Background and Criminal Check Show?
A background check will investigate a candidate's background. This may include employment, education, criminal records, credit history, motor vehicle and license record checks. Eye Spy can run a background check to uncover names, alias names, phone numbers, addresses, emails and much more.
With a thorough background check, you can get a better picture of an individual's past and patterns.
Eye Spy Can Help!
If you need a background and criminal check, call Eye Spy Detective Agency. We can get the evidence that you need.
At Eye Spy Investigations, we offer 100% LEGAL, CONFIDENTIAL services. The Michigan Private Investigators at Eye Spy Detective Agency specialize in Domestic Investigations.
If you have a few questions, please do not hesitate to call. You can also go online and talk to one of our private investigators on our 24/7 live chat. Call the Michigan Private Investigators at Eye Spy Detective Agency today at (888) 393 – 7799. For more information visit our website at www.EyeSpyInvestigations.com
They can run, but they can't hide from EYE SPY.