Are You Living Your Life, Or Simply Existing?
Eye Spy Blog 2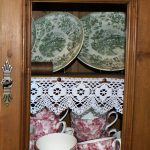 Are you living your life, or just waiting to die? Some people live with purpose and some just respond to what the world delivers. A life purpose is not something you do, or something you have. Rather, what you do is an expression of your life purpose.
Having a life purpose guides all your choices and shapes the direction of your life. It is your unique GPS. It is the compelling reason to be who you authentically are. Everyone has a purpose in life.
Are you Living Your Life with Purpose?
Music can heal you. It can also help you cope with the struggles in your life. There is meaning and magic in everything. However, sometimes you just have to look a little deeper. Songs mean different things to different people. Here's an example:
Lyric's by Pink "Sober"
I'm safe
Up high
Nothing can touch me
But why do I feel this party's over?
What if the lyrics above were written for the "Special Dishes" that are put away in the china cabinet? You know, the ones saved for when quests come over? The mysterious and sacred cabinet full of expensive plates, that ordinary people aren't allowed to use on a daily basis. The special occasion china reserved for guests only. Locked away in a china cabinet to be kept safe.
Maybe these special occasion dishes are crying out for help. Are you???
Are You Living Your Life, Or Simply Existing?
If you were to die today, would you be happy with the way you've been living? Are you living the life you've chosen or were you ushered into it by the expectations of your family or friends?
What do you personally want to achieve?
Have you been facing your fears?
What would you regret not doing with your life if today was your last?
In the end, what we regret most are the chances that we never took.
Peace Of Mind: Right Now In This Moment
SO, WE ARE ASKING YOU RIGHT NOW, WHAT DO YOU WANT TO ACHIEVE AND WHAT'S HOLDING YOU BACK?
Are you with the love of your life? Do you believe that you are walking through life with your soul mate? Would they ever cheat on you? Are they cheating on you?
If you cheat on someone you're dating, you don't love that person. I'm sorry, but it's true. If you are unfaithful, you are not in love. I don't care if people "make mistakes." I don't care if we're "all human." Cheating is not a mistake you make when you truly love someone. Let me just clarify this for a second, …
If you've ever been cheated on, you know there's no shortage of opinions on what you should do next. "Once a cheater, always a cheater," some will say.  What about the experts who say an affair can serve as a walk-up call for change?
Ultimately, your next move shouldn't be decided by outsiders, however well-meaning they may be. Only you know what's best for you. If you are looking for answers, we can help. Everyone deserves peace of mind.
Eye Spy Can Help!
At Eye Spy Investigations, we offer 100% LEGAL, CONFIDENTIAL services. The Michigan Private Investigators at Eye Spy Detective Agency specialize in Domestic Investigations.
If you have a few questions, please do not hesitate to call. You can also go online and talk to one of our private investigators on our 24/7 live chat. Call the Michigan Private Investigators at Eye Spy Detective Agency today at (888) 393 – 7799. For more information visit our website at www.EyeSpyInvestigations.com
They can run, but they can't hide from EYE SPY.