Do Bigger Diamonds Equal Divorce
Eye Spy Blog 2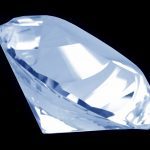 Diamonds are a girl's best friend. But, do Bigger Diamonds Equal Divorce? Expensive Engagement Rings Linked to Higher Divorce Rates.
New research suggests the bigger the diamond engagement ring, the shorter the marriage might be. Women whose engagement rings cost over $20,000 are 3.5 more likely to get divorced than those in the $5,000 to $10,000 range. Men who spent $2,000 to $4,000 on their wife's ring got divorced 1.5 time more than those who dropped between $500 and $2,000.
Bridezilla equals Divorcezilla
The Average Girl Considers a Big Engagement Ring to be 2.4 carats. There will always be the question of who has the bigger ring, with girls comparing and boys not wanting to be outdone.
Diamonds: The 1-3 Month Gross Salary Rule
Tradition has suggested men spend between 1-3 months salary on an engagement ring. This rule stipulates that if a man makes $80,000 a year, he should spend $20,000 on an engagement ring. Couples spend an average of $4000 on an engagement ring.
Don't let advertisers fool you into spending your life savings on a wedding ring.  Therefore, the moral of the study is pay what you can reasonably afford and don't take on debt just to get married.
Remember, the pricier the ring, the likelier the divorce.
Divorce
A Good Marriage Takes Work, But So Does A Good Divorce. Some spouses can work together through the divorce. Others simply cannot. However, if your partner is cheating or fighting you for child custody, Eye Spy can help!
Eye Spy Can Help!
We can get the evidence that you need.
At Eye Spy Investigations, we offer 100% LEGAL, CONFIDENTIAL services. The Michigan Private Investigators at Eye Spy Detective Agency specialize in Domestic Investigations.
If you have a few questions, please do not hesitate to call. You can also go online and talk to one of our private investigators on our 24/7 live chat. Call the Michigan Private Investigators at Eye Spy Detective Agency today at (888) 393 – 7799. For more information visit our website at www.EyeSpyInvestigations.com
They can run, but they can't hide from EYE SPY.