So, what really happens in the Champagne Room at strip clubs?
Eye Spy Blog 2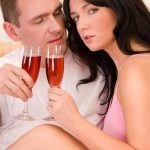 The champagne room is A VIP room in a strip club where a customer can purchase private time with a stripper.It normally costs around 100-300 dollars to get into the private dance rooms.
Champagne Room
Sex with strippers?…What really happens in VIP rooms? Champagne Room
The general rule in a standard strip club, even for lap dances is not touching the girls or taking photos or videos. Some girls are a bit more forthcoming than others, depending on how much money you've got. Then you get the more private clubs and stag nights where technically anything could happen within reason. There are fetish clubs as well, where all sorts of stuff could be happening in the toilets for example.
Either way, as a man, it will cost you a lot of money if you want to frequent these type of places regularly. The novelty will normally wear off soon enough, once you've seen and maybe touched x number of naked women.
If a taken guy goes to a strip club, is he cheating?
There's no shortage of excuses when it comes to cheating.
But what does infidelity even constitute in the age of right swipes, virtual-reality porn and animatronic sex dolls? Depends on who you ask.
Some women don't mind that their significant others visit strip clubs. Others believe strip clubs are merely brothels with dance music, and any man who visits one has violated the relationship.
Eye Spy Can Help!
We can get the evidence that you need.
At Eye Spy Investigations, we offer 100% LEGAL, CONFIDENTIAL services. The Michigan Private Investigators at Eye Spy Detective Agency specialize in Domestic Investigations.
If you have a few questions, please do not hesitate to call. You can also go online and talk to one of our private investigators on our 24/7 live chat. Call the Michigan Private Investigators at Eye Spy Detective Agency today at (888) 393 – 7799. For more information visit our website at www.EyeSpyInvestigations.com
They can run, but they can't hide from EYE SPY.