Expensive Weddings Result In Shorter Marriages
Eye Spy Blog 2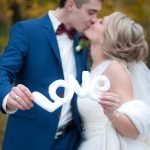 Expensive weddings don't really ensure that "death do you part." If you're serving burgers and Bud Light at your backyard wedding, don't worry. You and your spouse may have the last laugh. A new study found that couples who spend less on their wedding tend to have longer-lasting marriages than those who splurge.
Getting married shouldn't put you in debt. Racking up your bills will only cause more stress in your marriage. The wedding industry encourages couples to spend freely to ensure expensive weddings. Lavish weddings have been associated with longer-lasting marriages. Industry advertising has created the impression that spending large amounts on the wedding is a signal of commitment or is necessary for a marriage to be successful.
Expensive Weddings
Want a happy marriage? Have a big, cheap wedding. Couples who spend $20,000 on their wedding are 46% more likely than average to get divorced; that risk falls to 29% higher than average for those who spend $10,000 to $20,000. Remember, the more expensive your wedding, the more likely you are to get divorced.
The average wedding costs $35,000. Be mindful of your spending. There are many things that you can cut back on. In addition to slashing costs, you might want to invite those extra co-workers and far-flung cousins, too. The  greater the number of people who attend a wedding, the lower the rate of divorce .Couples who invite over 200 people are also 92 percent less likely to get a divorce than those who elope.
Divorce
A Good Marriage Takes Work, But So Does A Good Divorce. Some spouses can work together through the divorce. Others simply cannot. However, if your partner is cheating or fighting you for child custody, Eye Spy can help!
Eye Spy Can Help!
We can get the evidence that you need.
At Eye Spy Investigations, we offer 100% LEGAL, CONFIDENTIAL services. The Michigan Private Investigators at Eye Spy Detective Agency specialize in Domestic Investigations.
If you have a few questions, please do not hesitate to call. You can also go online and talk to one of our private investigators on our 24/7 live chat. Call the Michigan Private Investigators at Eye Spy Detective Agency today at (888) 393 – 7799. For more information visit our website at www.EyeSpyInvestigations.com
They can run, but they can't hide from EYE SPY.