Until Death Do Us Part
Eye Spy Blog 2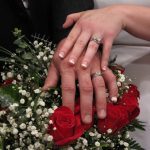 "Until death do us part" is a part of traditional wedding vows. This signifies that the married couple intend to spend the remainder of their lives together. They will be parted only by death.
Until Death Do Us Part
"To have and to hold, from this day forward, for better, for worse, for richer, for poorer,
in sickness and in health, until death do us part."
This promise is broken more than it is kept. But "Until death do us part" can be interpreted differently. In this phrase, "death" does not need to mean the end of physical life. It can mean the end of the couple's purpose for being together; once the purpose is fulfilled, the union no longer needs to continue.
If anything but death is an option for ending a marriage, don't say "until death" in your wedding vows. Tell the truth. Promise what is meant. Say something like "until adultery, abandonment, or abuse." Say what you mean.
Divorce
A Good Marriage Takes Work, But So Does A Good Divorce. Some spouses can work together through the divorce. Others simply cannot. However, if your partner is cheating or fighting you for child custody, Eye Spy can help!
Eye Spy Can Help!
We can get the evidence that you need.
At Eye Spy Investigations, we offer 100% LEGAL, CONFIDENTIAL services. The Michigan Private Investigators at Eye Spy Detective Agency specialize in Domestic Investigations.
If you have a few questions, please do not hesitate to call. You can also go online and talk to one of our private investigators on our 24/7 live chat. Call the Michigan Private Investigators at Eye Spy Detective Agency today at (888) 393 – 7799. For more information visit our website at www.EyeSpyInvestigations.com
They can run, but they can't hide from EYE SPY.