Workplace Harassment
Eye Spy Blog 2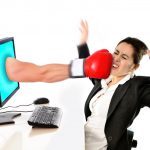 Workplace harassment is the belittling or threatening behavior directed at an individual worker. This abuse may include offensive jokes, slurs, name-calling, physical assaults or threats, intimidation, ridicule, insults, offensive pictures, and more.
It's any unwelcome act that is serious enough to interfere with an individual's work, education, living conditions, or participation in activities.
Are you being harassed? Are you too scared to say anything? Start by educating yourself on the facts.  This is a great way to gain confidence to be able to stand up for yourself. Employees should be feel that their issues will be taken seriously.
Workplace harassment can ruin a great job and turn a company into a toxic and unproductive environment. The "Me Too" movement has enhanced awareness of sexual harassment. Hence, many employers have reexamined and strengthened their policies and procedures.
First of all, there are different types of workplace harassment.
Workplace Harassment
The harasser can be the victim's supervisor, a supervisor in another area, an agent of the employer, a co-worker or a non employee. Furthermore, the victim does not have to be the person harassed. It can be anyone affected by it.
Sexual harassment
Sexual harassment is a serious offense. Furthermore, it's more common than you might think. One in three women have experienced sexual harassment at work at some point their lives. Ninety percent of these cases are never reported.
However, it's not exclusive to women. In addition, a person of any gender can be the perpetrator or the victim of sexual harassment.
Online Harassment
Harassment online can include hateful speech in emails, instant messages, tweets or other social platforms. Furthermore, It can range from name-calling to threatening behavior.
Trolling
Trolling is the art of posting hateful and hurtful comments online. Trying to find a trigger point to upset the victim. Consequently, trolls are usually cutthroat.  As a result, people tend to be braver behind a computer screen.
Do you know someone who is being harassed at work? Are you being a victim? If you suspect you may have been the victim, but you aren't sure, Call us.
Eye Spy Can Help!
We can get the evidence that you need.
At Eye Spy Investigations, we offer 100% LEGAL, CONFIDENTIAL services. The Michigan Private Investigators at Eye Spy Detective Agency specialize in Domestic Investigations.
If you have a few questions, please do not hesitate to call. You can also go online and talk to one of our private investigators on our 24/7 live chat. Call the Michigan Private Investigators at Eye Spy Detective Agency today at (888) 393 – 7799. For more information visit our website at www.EyeSpyInvestigations.com
They can run, but they can't hide from EYE SPY.