Crazy Cat Lady
Eye Spy Blog 2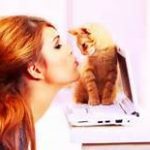 Crazy Cat Lady, or something to hide? So you've met someone online and  it seems like the perfect match. But, every time you try to meet up with them, they make an excuse. Could this person really be an introvert who stays home with her cats? Or, could she really be married with children?
Cat people are best known for their number one trait, loving cats. Those preferring felines are usually introverted, sensitive and open-minded. Cat people score higher in intelligence and are more intellectually curious.
Introvert Crazy Cat Lady
Are you being cat fished? Cat fishing is an online con.  Where someone assumes a new identity in order to seduce a stranger on the internet. These con artists love to operate in shady corners of the internet, but might also approach you on totally trustworthy sites, like online dating platforms or social media.
So, before being emotionally bruised, run a background check on your new boyfriend before falling head over heels for him.
Are you being cat fished?
Eye Spy Can Help!
We can get the evidence that you need.
At Eye Spy Investigations, we offer 100% LEGAL, CONFIDENTIAL services. The Michigan Private Investigators at Eye Spy Detective Agency specialize in Domestic Investigations.
If you have some questions, please do not hesitate to call. Feel free to go online and talk to one of our private investigators on our 24/7 live chat. Call the Michigan Private Investigators at Eye Spy Detective Agency today at (888) 393 – 7799. For more information visit our website at www.EyeSpyInvestigations.com
They can run, but they can't hide from EYE SPY.