I'LL BE THERE IN A PROSECCO
Eye Spy Blog 2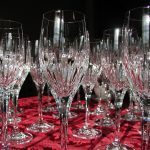 I'll BE THERE IN A PROSECCO! Prosecco is one of the most deliciously decadent drinks around. There's nothing more fun than partaking in a glass or two on a night out. Living in the moment and enjoying a glass of bubbly. We'll raise a glass to that!
Bottoms up! Here are the unexpected health benefits of drinking Prosecco:
It's Good for your heart: We always knew that Prosecco held a very special place in our hearts – but we didn't know it was working wonders while it was in there. Those boozy bubbles contain polyphenols (aka plant chemicals laden with antioxidant properties). This helps to lower your blood pressure and increase your circulation. Which reduces your chances of having a stroke and gives your heart a health boost.Sip a glass once a week to reap the benefits.
Lifts Your Spirits: That sparkling wine contains natural trace elements of zinc, magnesium, and potassium. Which is a pretty big deal, especially when you consider the fact that all of them have proven to be serious mood boosters.
Boost your sex life: Women who drink one to two glasses of bubbles enjoy heightened sexual desire. Again, it's all thanks to the drink's rich antioxidant profile; this triggers nitric oxide production in the blood, which relaxes artery walls, and increases blood flow down south, creating feelings of sexual excitement.
Follow your heart, but take your brain with you
While drinking too much is always bad for you, it turns out that Prosecco does have some unexpected health benefits. However, heavy drinking can lead to bad decisions. Which can then lead to cheating.
Do you suspect that your Spouse is cheating?
Eye Spy Can Help!
We can get the evidence that you need.
At Eye Spy Investigations, we offer 100% LEGAL, CONFIDENTIAL services. The Michigan Private Investigators at Eye Spy Detective Agency specialize in Domestic Investigations.
If you have some questions, please do not hesitate to call. Feel free to go online and talk to one of our private investigators on our 24/7 live chat. Call the Michigan Private Investigators at Eye Spy Detective Agency today at (888) 393 – 7799. For more information visit our website at www.EyeSpyInvestigations.com
They can run, but they can't hide from EYE SPY