You Owe Me Money
Eye Spy Blog 2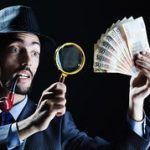 Does someone owe you money? Lending money to a friend or family member can be a tricky situation.
After all, you loaned money to somebody and they promised to pay you back. You've lived up to your side of the bargain and they didn't.
The reality of life is that when we loan people money, especially our family and friends, they break their promises when it's time to pay back the money or they don't pay at all. Many people often feel bad about asking for their money back when it's not paid as promised for fear of ruining relationships.
You Owe Me
There are three reasons for someone not paying you back:
They feel they don't have to pay you back; you loaned them the money as a parent would without expecting repayment.
They have run into financial hard-times and cannot pay you back.
They are unscrupulous and never intended on paying you back.
Track Them Down
Eye Spy can locate the person for you. We can also conduct an asset check or employment search to find out what they own, and where they work. This can be used to assist you in a court preceding.
Eye Spy Can Help!
At Eye Spy Investigations, we offer 100% LEGAL, CONFIDENTIAL services. The Private Investigators at Eye Spy Detective Agency specialize in Darknet Investigations. We can find out if you or someone you love is in harms way.
If you have a few questions, please do not hesitate to call. You can also go online and talk to one of our private investigators on our 24/7 live chat. Call the Michigan Private Investigators at Eye Spy Detective Agency today at (888) 393 – 7799. For more information visit our website at www.EyeSpyInvestigations.com
They can run, but they can't hide from EYE SPY.