Sleeping with Dogs
Eye Spy Blog 2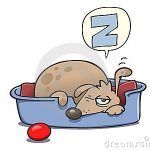 Good news, dog lovers. Sleeping with dogs is actually good for you. Letting your four-legged friend into the bedroom does not worsen your sleep. In fact, Women sleep better with dogs by their sides.
Sleeping with Dogs
Women who share their beds with dogs get a better night's rest.
Female dog owners reported less disturbed sleep while also experiencing greater feelings of comfort and security.
Human sleep companions, on the other hand, did not cause similar disturbances. Those who slept two-in-a-bed had better sleep efficiency than those who slept alone.
Are you sleeping next to a human Dog? Call Eye Spy today!
Eye Spy Can Help!
We can get the evidence that you need.
At Eye Spy Investigations, we offer 100% LEGAL, CONFIDENTIAL services. The Michigan Private Investigators at Eye Spy Detective Agency specialize in Domestic Investigations.
We have Investigators on staff that work directly for us all over Michigan. From Grosse Pointe to Birmingham, Sterling Heights to Livonia, Southfield to Detroit, Bloomfield Hills to Grand Rapids and every where in between.
If you have some questions, please do not hesitate to call. Feel free to go online and talk to one of our private investigators on our 24/7 live chat. Call the Michigan Private Investigators at Eye Spy Detective Agency today at (888) 393 – 7799. For more information visit our website at www.EyeSpyInvestigations.com
They Can Run, But They Can't Hide From EYE SPY!