Kick It With The Crew
Eye Spy Blog 2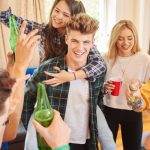 Do they Love to Kick it with the Crew?
Kick It With The Crew
Friends, we all have them. None of them are the same. While they may share similar traits, none of them are the same type of friend. Some friends are more like family and other friends are more like acquaintances. Some friends are needy and other friends are very generous.
However, some friends are toxic and have the power of breaking up your marriage.
Friends play an extremely important role in our lives, and this remains true after we're married as well.  We need to cultivate good, true, loyal, and honest friendships that not only bring out the best in us but also bring out the very best in our marriage.
On the other hand, we need to stay away from toxic friendships that have the potential to harm our marriage.
We often become like the people we hang out with the most.
Do you need to fins out the truth? Call Eye Spy today!
Eye Spy Can Help!
We can get the evidence that you need.
At Eye Spy Investigations, we offer 100% LEGAL, CONFIDENTIAL services. The Michigan Private Investigators at Eye Spy Detective Agency specialize in Domestic Investigations.
We have Investigators on staff that work directly for us all over Michigan. From Grosse Pointe to Birmingham, Sterling Heights to Livonia, Southfield to Detroit, Bloomfield Hills to Grand Rapids and every where in between.
If you have some questions, please do not hesitate to call. Feel free to go online and talk to one of our private investigators on our 24/7 live chat. Call the Michigan Private Investigators at Eye Spy Detective Agency today at (888) 393- 7799. For more information visit our website at www.EyeSpyInvestigations.com
They Can Run, But They Can't Hide From EYE SPY!