Stay Home
Eye Spy Blog 2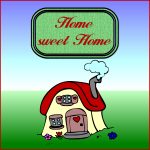 Do you wish that they would stay home with you more often?
Stay Home With Me
When you were young, your Mother or Father stayed at home with you. And that seemed like the way it should be. However, times have changed and people are constantly on the go. But is it really just for work?
Seems like there are certain types of people that crave attention. This usually stems from bad self esteem and low self confidence. You know the ones, you see them on social media.
But, the person who suffers the most from these types of personalities, are their children and significant others. Although these types are comical, it's actually very sad. These types tend to crash and burn on a regular basis. Consequently, this leaves them with very little to give to anyone else.
Are you fed up with paying child support to someone who squanders it? Do they live somewhere with high rent, just to keep up with the Jones'? Tired of being pestered by them for more support? Eye Spy can help.
Need help with your Child Custody Case? Call Eye Spy today!
Eye Spy Can Help!
We can get the evidence that you need.
At Eye Spy Investigations, we offer 100% LEGAL, CONFIDENTIAL services. The Michigan Private Investigators at Eye Spy Detective Agency specialize in Domestic Investigations.
We have Investigators on staff that work directly for us all over Michigan. From Grosse Pointe to Birmingham, Sterling Heights to Livonia, Southfield to Detroit, Bloomfield Hills to Grand Rapids and every where in between.
If you have some questions, please do not hesitate to call. Feel free to go online and talk to one of our private investigators on our 24/7 live chat. Call the Michigan Private Investigators at Eye Spy Detective Agency today at (888) 393- 7799. For more information visit our website at www.EyeSpyInvestigations.com
They Can Run, But They Can't Hide From EYE SPY!