Burlesque
Eye Spy Blog 2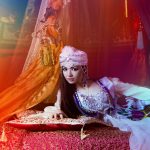 Like most things, burlesque has gone virtual.
Burlesque
But, could your Spouse be flirting online with the performers? Is this a new type of pornography?
Although,  it may be impossible to recreate the experience exactly, producers and performers are trying their best.
The New York City lockdown order has forced the neo-burlesque companies to let the curtains fall indefinitely. Consequently, They have begun hosting virtual variety shows on Instagram Live.
Like most entertainers, the burlesque community was hit early and hard by the COVID-19 pandemic. Mostly because the attendance dwindled in the weeks leading up to eventual cancelations. Also clubs shutdown amid city and statewide lockdowns. But it didn't take long for performers to figure out how to refashion their craft for COVID-era entertainment.
Always an innovative, flexible, shapeshifting art form, burlesque's latest evolution has seen the genre go digital, as performers and producers are bringing the stage to their living rooms and yours.
Is your partner getting a little too friendly online? Call Eye Spy today (888) 393-7799.
Eye Spy Can Help!
We can get the evidence that you need.
At Eye Spy Investigations, we offer 100% LEGAL, CONFIDENTIAL services. The Michigan Private Investigators at Eye Spy Detective Agency specialize in Domestic Investigations.
We have Investigators on staff that work directly for us all over Michigan. From Grosse Pointe to Birmingham, Sterling Heights to Livonia, Southfield to Detroit, Bloomfield Hills to Grand Rapids and every where in between.
If you have some questions, please do not hesitate to call. Feel free to go online and talk to one of our private investigators on our 24/7 live chat. Call the Michigan Private Investigators at Eye Spy Detective Agency today at (888) 393- 7799. For more information visit our website at www.EyeSpyInvestigations.com
They Can Run, But They Can't Hide From EYE SPY!