Cyber Affair
Eye Spy Blog 2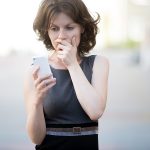 Cyber Affair
What is a Cyber Affair, and is it considered cheating?
A cyber affair is a modern epidemic. Furthermore, it's an emotional connection that develops online.
Many people try to make excuses for these kinds of relationships. Consequently, they successfully deceive their spouse into believing that it's fine. However, unlike the traditional emotional affair, the cyber affair might seem less serious, since everything is happening online.
But, if there aren't any lunch dates or meetings, is this still considered cheating?
Cyber affairs are becoming increasingly common simply because of how easy they are to fall into. But, an unhappy marriage can lead spouses to seek others online. However, this can sometimes happen completely unintentionally.
Are they Cheating? Find out! Call Eye Spy today!
Eye Spy Can Help!
We can get the evidence that you need.
At Eye Spy Investigations, we offer 100% LEGAL, CONFIDENTIAL services. The Michigan Private Investigators at Eye Spy Detective Agency specialize in Domestic Investigations.
We have Investigators on staff that work directly for us all over Michigan. From Grosse Pointe to Birmingham, Sterling Heights to Livonia, Southfield to Detroit, Bloomfield Hills to Grand Rapids and every where in between.
If you have some questions, please do not hesitate to call. Feel free to go online and talk to one of our private investigators on our 24/7 live chat. Call the Michigan Private Investigators at Eye Spy Detective Agency today at (888) 393- 7799. For more information visit our website at www.EyeSpyInvestigations.com
They Can Run, But They Can't Hide From EYE SPY!