Creepy McCreeperson
Eye Spy Blog 2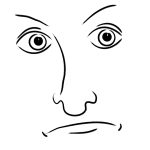 Creepy McCreeperson
Who is Creepy McCreeperson? A creepy person who lurks around and gives off a strange vibe.
Do some people give you an awkward feeling? Do they stare and say inappropriate things to people? Not feeling sure about the truth, wisdom, or trustworthiness of someone or something can really wreak havoc on your life. However, it's normal to feel unsure about your relationship, or someone close to you. But, this is especially true if you've been in a bad situation before. Furthermore, if you are feeling uncertainty about a relationship, it's important that you address the reasons for those feelings. Thus, it's usually your gut telling you that there are unresolved problems. People tend to rush into relationships. Consequently, some people get married, only to find out that they don't really like the person they married. Therefore, it is good to be a little unsure, and to take your time picking out the right person.
Do you have a weird feeling about someone? Get the facts to support your claim, confidentially. Call Eye Spy today!
Eye Spy Can Help!
We can get the evidence that you need.
At Eye Spy Investigations, we offer 100% LEGAL, CONFIDENTIAL services. The Michigan Private Investigators at Eye Spy Detective Agency specialize in Domestic Investigations.
We have Investigators on staff that work directly for us all over Michigan. From Grosse Pointe to Birmingham, Sterling Heights to Livonia, Southfield to Detroit, Bloomfield Hills to Grand Rapids and every where in between.
If you have some questions, please do not hesitate to call. Feel free to go online and talk to one of our private investigators on our 24/7 live chat. Call the Michigan Private Investigators at Eye Spy Detective Agency today at (888) 393- 7799. For more information visit our website at www.EyeSpyInvestigations.com