Just a Friend? Or a Friend With Benefits?
Eye Spy Blog 1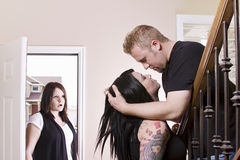 Just a Friend? Or a Friend with Benefits? Is Your Spouse or lover Cheating? Friendships can turn into more than "just friends" and lead to marital infidelity. Does your spouse or significant other have "friends" you are suspicious of?
"You, you got what I need but you say he's just a friend
But you say he's just a friend, oh baby" – Biz Markie
"Just a Friend" is a song written, produced and performed by American hip hop artist Biz Markie. It was released in September 1989 as the lead single from his album, The Biz Never Sleeps.
When does friendship cross the line and become more than "just friends?"
When you discuss your marital problems with your friend.
When you keep your relationship with your friend a secret.
When you begin to feel an attraction toward your friend.
When you turn to your friend with a problem instead of your wife.
When you exclude your wife from your relationship with your friend.
When you would rather spend time with your friend than your spouse.
When you think your friend understands you better than your spouse.
Most people mistakenly think that infidelity isn't really infidelity unless there's sexual contact. Whereas women tend to regard any sexual intimacy as infidelity, men are more likely to deny infidelity unless sexual intercourse has occurred. Affairs do not have to be sexual. Some, such as Internet affairs, are primarily emotional. The most devastating extramarital involvements engage heart, mind, and body. And this is the kind of affair that is becoming more common. Today's affairs are more frequent and more serious than they used to be because more men are getting emotionally involved, and more women are getting sexually involved.
At least one or both parties in 50 percent of all couples, married and living together, straight and gay, will break their vows of sexual or emotional exclusivity during the lifetime of the relationship.
Our private investigation agency offices are located locally in Michigan. We have been in business for over 25 years! If you want to hire a Michigan private investigator or a Michigan private detective, please call our investigations office at (888) 393-7799, 24 hours/7 days. We provide private investigator services throughout the entire State of Michigan, and have agents nationwide. We are licensed as Michigan private investigators by the State of Michigan and will solve your case as quickly as possible.
Visit us at www.EyeSpyInvestigations.com for more information.