Should You Say Something?
Eye Spy Blog 2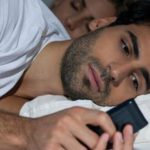 Oh no! Should You Say Something?
Should You Say Something?
Have you been getting a bad vibe from your friends fiance? But, your friend doesn't want to hear it? Then you happen to see that person(your friends fiance) getting too close to someone that is NOT their partner? After that you realize your gut feeling was correct! But, what now? Should you say something?
But, what if they don't believe you? Will they think you're just saying things because you don't like the person? And as a result, stop talking to you? What if they call off the engagement and blame you for it? But you want to help your friend know the truth before it's too late.
Before confronting someone it's best to have concrete evidence. Therefore, you should call the experts. Eye Spy can get you the proof you need confidentially. We can go under cover, at restaurants, bars, etc, and document these interactions. We successfully catch cheaters daily at these establishments. This could save your friends from a lifetime of misery.
Eye Spy Can Help!
We can get the evidence that you need.
At Eye Spy Investigations, we offer 100% LEGAL, CONFIDENTIAL services. The Michigan Private Investigators at Eye Spy Detective Agency specialize in Domestic Investigations.
We have Investigators on staff that work directly for us all over Michigan. From Grosse Pointe to Birmingham, Sterling Heights to Livonia, Southfield to Detroit, Bloomfield Hills to Grand Rapids and every where in between.
If you have some questions, please do not hesitate to call. Feel free to go online and talk to one of our private investigators on our 24/7 live chat. Call the Michigan Private Investigators at Eye Spy Detective Agency today at (888) 393- 7799. For more information visit our website at www.EyeSpyInvestigations.com
They Can Run, But They Can't Hide From EYE SPY!