All Hallows Eve
Eye Spy Blog 2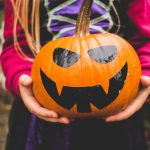 Happy All Hallows Eve
All Hallows Eve marks the end of summer, and the beginning of the dark, cold winter. Furthermore, it's a time of year that was often associated with human death. Celts believed that on the night before the new year, the boundary between the worlds of the living and the dead became blurred. On the night of October 31, people believe that the ghosts of the dead return to earth.
All Hallows Eve later  became Halloween. Over time, Halloween evolved into a day of activities like trick-or-treating, carving jack-o-lanterns, festive gatherings, donning costumes and eating treats.
Trick or Treat
It is believed that the veil between the physical world and the spiritual world is at its thinnest. This means spirits can easily cross between realms and enter our world. The ancient Celts felt the need to please the spirits in order to ensure that their population and livestock did not die during the harsh winter.
Souls of the departed are believed to revisit their homes seeking hospitality. In some cases, a place setting of food or drink are put on the dining table in anticipation of the visit. Mumming, or wearing disguises were part of the festival. Thus, it involves people going door to door in costume or disguise in exchange for food.
Halloween is the time when people act out of character. Which means it's a likely time that they will cheat. Find out what is really going on. Call Eye Spy today!
Eye Spy Can Help!
We can get the evidence that you need.
At Eye Spy Investigations, we offer 100% LEGAL, CONFIDENTIAL services. The Michigan Private Investigators at Eye Spy Detective Agency specialize in Domestic Investigations.
We have Investigators on staff that work directly for us all over Michigan. From Grosse Pointe to Birmingham, Sterling Heights to Livonia, Southfield to Detroit, Bloomfield Hills to Grand Rapids and every where in between.
If you have some questions, please do not hesitate to call. Feel free to go online and talk to one of our private investigators on our 24/7 live chat. Call the Michigan Private Investigators at Eye Spy Detective Agency today at (888) 393- 7799. For more information visit our website at www.EyeSpyInvestigations.com